–The LIVEDESIGNonline has also published the content about N60
During NAB Show 2022, Kiloview announced the global launch of a new high-tech product—N60. The N60 is a 4K HDMI to NDI Bi-Directional Converter that supports encoding/decoding of NDI as well as NDI|HX by H.264/H.265.
For simpler use and parameter monitoring, the N60 NDI encoder/decoder also features a scroll wheel and a color LCD screen.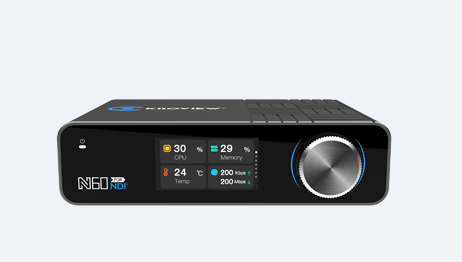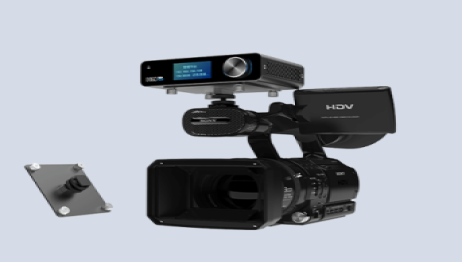 Why are we so excited about this terrific device? For a long time, we seem to be stuck between NDI and NDI|HX.
Compared to traditional HD video streaming, streaming by NDI offers a better video transmission with higher quality and reduced latency. However, NDI streaming requires much more advanced technology in transmission, compression, transcoding, storage, bandwidth, etc. For example, a 4Kp60 NDI stream requires 250Mbps of bandwidth, while a 1080p60 NDI stream may require 140Mbps of bandwidth for encoding and transmission. That works fine when streaming a TV program or surgical video, but it may run into issues when using multiple NDI sources to connect to a single endpoint over a 1-gigabit network. NDI|HX utilizes the popular compression method H.264, which can drastically lower the bandwidth needed. In the meantime, the video transmission comes with a slight increase in latency.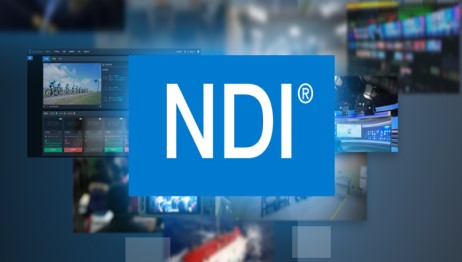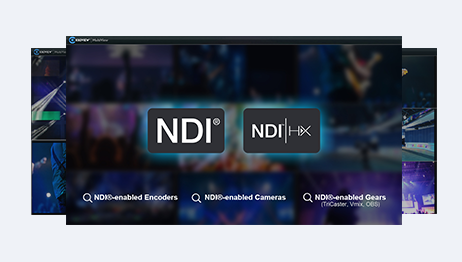 There's always a trade-off between latency and bandwidth. High bandwidth always gives low latency, whereas low bandwidth always causes latency since it costs time to compress and decompress the video.
Anyhow, the best 4K HDMI to NDI Bi-Directional Converter, Kiloview N60, supports encoding/decoding of NDI as well as NDI|HX by H.264/H.265 now.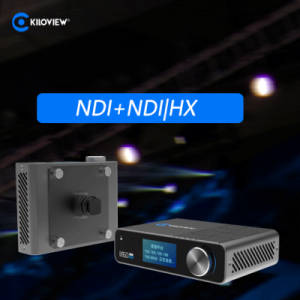 Both NDI and NDI|HX are enabled.
Adopting the leading FPGA technologies, advanced AVC/HEVC algorithm, and NDI algorithm, the Kiloview N60 HDMI to NDI converter supports 4Kp60 format encoding and decoding with both NDI High-bandwidth and NDI|HX, meeting all your demands and applications of IP-based video transmission.
In the encoding mode, the Kiloview N60 NDI|HX codec can encode a 4K HDMI signal into an NDI or NDI|HX video stream. While in the decoding mode, the Kiloview N60 will automatically adapt to the NDI and NDI|HX formats as your end needs.
PTZ Control
Equipped with dual USB 3.0 ports (Type-A and Type-C). When extended USB keypad, you can switch different NDI sources seamlessly.
Kiloview N60 supports PTZ control through USB to serial RS-232/RS-485/RS-422.
N60 also adopts Network control protocols (such as Sony Visca/PELCO-D/PELCO-P) for external PTZ control.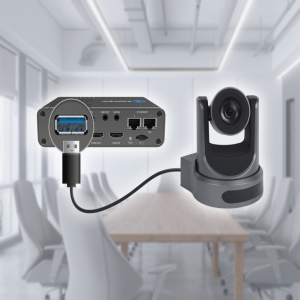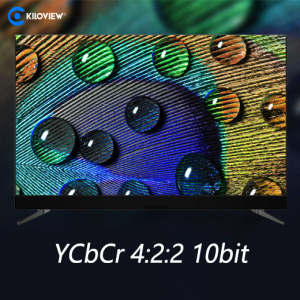 Up to YCbCr 4:2:2 Color Space and 10bits Color Depth
The N60 HDMI to NDI converter supports a professional YCbCr 4:2:2 color space and a 10-bit color depth (the common YCbCr 4:2:0 and 8-bit color depth are also available). N60 promises higher color and image quality, thus perfectly fulfilling the needs in the broadcasting and medical imaging industries that bear no color fringing. Together with Kiloview NDI Ecosystem, there are much more possibilities with the N60 in AV-over-IP solutions.
Big Color LCD Screen and Scroll Wheel
It's the first time Kiloview configured a big color IPS LCD screen and a scroll wheel on the front control panel. The big color LCD screen and a scroll wheel enable users to easily customize settings, switch on/off, check working status, set quick shortcuts, and control all video sources without logging in to the UI management system! Additionally, the LCD screen doubles as a big tally to facilitate live production.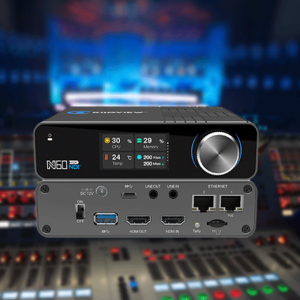 About Kiloview
Founded in 2011, Kiloview is a professional hardware manufacturer, software developer, and solution provider in the field of IP-based video transmission and management, with products across the range of video encoding, decoding, conversion, IP-based video switching, and streaming.
With the principle of Any In, Any Out, Anywhere, Kiloview provides reliable, affordable, high-quality video transmission products and solutions, helping thousands of professional customers in the fields of Broadcast, Sports, Education, and Houses of Worship, Medical, Security, Enterprise and so on.
Kiloview supports full protocols including NDI®, NDI|HX, SRT as well as RTSP, RTMP, HLS, RTP, TS-UDP, and ONVIF. With flexible types of standalone and rackmount multi-channels, functions such as PTZ control, voice intercom, recording, and streaming services, Kiloview offers the most versatile AV-over-IP solution in the world.