Changsha, China – August 5th, 2021 – Kiloview today launched the S2, a gear designed to meet the needs of all 4K video transmission applications, and it's the true 4K encoder that can accept real 4Kp60 HDMI input and encodes up to 4Kp30.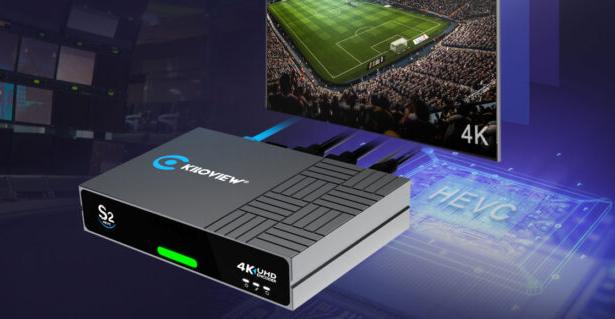 Kiloview S2 H.265/H.264-4K HDMI Video Encoder can encode HDMI2.0 video source with H.265 and compress into IP stream (NDI|HX supported) to realize long-distance HD transmission/live broadcast over WAN or LAN. It supports SRT/RTMP/RTMPS/HLS/UDP/RTSP and NDI|HX and voice intercom, with more functions video rotation &cropping, text overlay, recording, etc.
Featured with powerful functions such as PoE, built-in dual tally lights, embedded and 3.5mm analog line-in audio, USB expansion PTZ /intercom/storage, NAS network storage, etc. S2 will be the most reliable and cost-effective encoder to convert 4K HDMI signals to IP stream.
"The concept we develop S2 is to meet the increasing needs of 4k video encoding/decoding since 4K resolution or ultra HD resolution is four times the standard Full HD resolution. " Said Jacob, the CTO, and founder of Kiloview. "The S2 can perfectly fit this market to transmission high-resolution video with less bandwidth through NDI and all the other protocols."
What's special in summary?
Firstly, Kiloview S2 supports 4Kp60 HDMI input and loop and encodes up to 4Kp30. Compatible with SD/HD/VESA resolution etc., it can meet your needs for a high-quality image.
Secondly, With H.265 HEVC encoding, S2 realizes a lower encoding bitrate and saves more than 50% bandwidth comparing with H.264 with the same image quality. (Typical encoding bitrate: H.265: [email protected],H.264: [email protected])
Thirdly, it supports all the protocols, including NDI|HX2/SRT/RTMP/RTMPS/RTSP/TS-UDP/HLS, etc for different streaming purposes all at the same time.
Fourthly, the newly-designed Web UI works perfectly to preview the video source in real-time, allowing you to monitor the video status at any time.
Lastly: Driven by PoE/12 V DC, S2 can live stream to 16 platforms simultaneously, support USB for local or NAS recording, overlay LOGO/text/pictures to any position of the screen. At the same time, professional operations such as rotation/cropping, mirroring, and color adjustment are also available.
For more information, please check the link: https://www.kiloview.com/en/h-265-hardware-encoder/
About Kiloview
Founded in 2010, Kiloview is a professional hardware manufacturer as well as software developer & solution provider in the field of IP-based video transmission and management, with products across the range of video encoding, decoding, conversion, IP-based video switching and streaming, including SDI/HDMI (HD or 4K UHD) to IP via H.264/H.265/NDI by Ethernet, wifi or 4G-LTE/5G-LTE, etc.
With the philosophy of ANYIN ANYOUT ANYWHERE , Kiloview is dedicated to providing high quality and reliability video transmitting products and innovating in hardware and software, to help thousands of professional customers in Broadcast, Sports, Education, Medical, Security, Enterprise, etc.
Kiloview supports full protocols including NDI®, NDI®|HX, SRT as well as RTSP, RTMP, HLS, RTP, TS-UDP, ONVIF, SIP, with flexible types of rackmount multi-channels and functions such as PTZ control, recording, streaming services. It makes Kiloview capable to offer the most versatile AV-over-IP solution in the world.
Reach us at:
Website: www.kiloview.com
Email: [email protected]
Facebook: https://www.facebook.com/kiloviewelectronics/
Youtube:https://www.youtube.com/channel/UCjDkjfc4Z2QFwIUX5X14CkA/videos
Twitter: https://twitter.com/kiloview
Linkedin: https://www.linkedin.com/company/kiloview-electronics/?viewAsMember=true