Both SRT and NDI® technologies are examples of low-latency transmission. The SRT protocol helps users reliably transmit video via the unpredictable Internet; The NDI protocol focuses on realizing high-quality, low-latency audio and video transmission via the IP network in the local area network(LAN). Under what circumstances should I choose between SRT and NDI?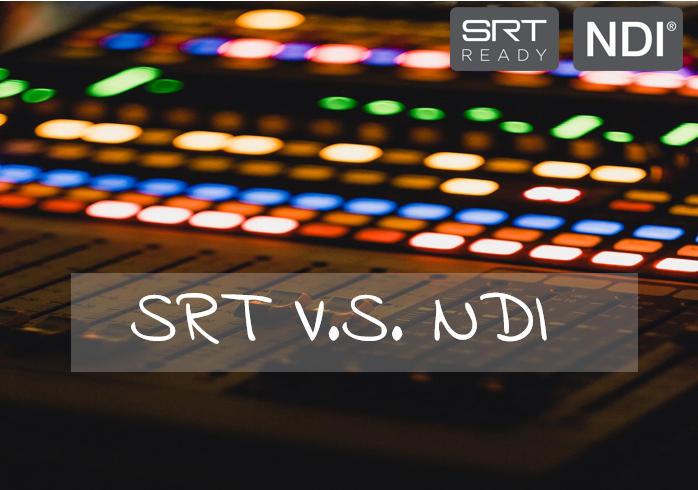 NDI and SRT – low-latency transmission technology
What is SRT protocol?
SRT as an Internet-based transmission protocol jointly created by Haivision and Wowza, it is a very popular open source low-latency video transmission protocol. The use of SRT transmission technology can successfully achieve safe and reliable high-definition video transmission and distribution under different Internet environments and between multiple locations. (see Operation Manual of SRT with Wowza Stream Server )
What is NDI protocol?
NDI is a network device interface protocol launched by NewTek in 2015. It is a signal transmission protocol based on local area networks. Using NDI transmission technology, a device in the local area network can output or receive multiple NDI signals through a network cable, which can completely replace the traditional SDI/HDMI video cable transmission. It enables simple and efficient video transmission in the IP space has become a reality. (See NDI advantages)
SRT V.S. NDI
Bandwidth used
The SRT protocol is a transmission protocol based on the H.264/H.265 compression scheme. The transmission bandwidth is adjustable. For example, high-definition video can be customized to 4-20Mbps. SRT's anti-packet loss mechanism is ARQ (Automatic Repeat Request) error correction mechanism. In network transmission, bandwidth jitter and packet loss occur randomly. The error correction mechanism is only needed when there is something wrong happening in the network. The ARQ mechanism only requires the sender to retransmit the lost data packet after the packet loss occurs. Namely, this not only ensures the quality of the transmission, but also reduces unnecessary consumption of transmission bandwidth.
There are two versions of NDI protocols, one is NDI|HX, and the other is Full NDI.(Differences between NDI ® and NDI | HX ? ) NDI|HX is a variant of H.264, it has been iterated to NDI|HX2 with its transmission bandwidth adjustable, and 1080P60 video defaults to 10Mbps. Full NDI is an I-frame intra-frame compression scheme. It has been iterated to NDI 4.5. During the transmission process, full NDI consumes certain bandwidth – HD needing 90-180Mbps and 4K with 200-300Mbps. With NDI transmission we recommend Gigabit network which is suitable for applications that require high image quality, such as program production.
Transmission delay
SRT is a network transmission technology that can transmit data streams in real time and accurately in a complex network environment. It uses the UDP protocol at the transmission layer, features UDP's fast speed and low overhead, supports point-to-point transmission, and is free from intermediate server transfer (One end merely needs to have a fixed public IP address), and the point-to-point transmission of the Internet can be less than 1s.
NDI allows devices in the local area network to transmit high-quality signals. A device in the local area network can output or receive multiple NDI signals with network cable. Without complicated wiring, the end-to-end delay in the local area network is only 1 -3 frames (less than 100ms). In real usage, the end-to-end delay of Full NDI is less than 100ms, and the end-to-end delay of NDI|HX is about 100+ms.
Application scenarios
SRT can be widely used in industries such as remote production of programs (on the cloud), live video connection of the main branch of the live event, Internet remote teaching and training, base camp's video cooperation and collaboration with branches in other places, remote connection of court hearings, and other industries that require remote Internet access video transmission occasions. At the same time, it should be noted that the SRT transmission application requires a fixed public IP address on either the sender or the receiver.
NDI is widely used in industries such as local/remote production of TV programs, NDI projection, NDI video conferencing, ultra-low latency surgical teaching, and some video transmission scenarios that require more convenience, low latency, and high image quality. NDI is currently only suitable for transmission within the local area network, but through the protocol conversion technical solution, the NDI stream can also be transmitted across the Internet (See Kiloview's NDI solution for LAN ).
Conclusion
SRT technology across Internet and NDI technology via LAN are two of the most popular low-latency transmission protocols at the moment, and the appropriate solution can be selected according to the actual application between the two. Kiloview Electronics (en.kiloview.com) has been focusing on video IP-based transmission solutions business. As the official supplier of NewTek NDI technology and a member of the SRT Alliance, it can provide customers with cost-effective NDI/SRT video coders.