The San Fermín Festival is a week-long, historically rooted celebration held annually in the city of Pamplona, Navarre, in northern Spain. It has become probably the most internationally renowned festival in Spain with over a million people coming to participate. The most famous event is the running of the bulls.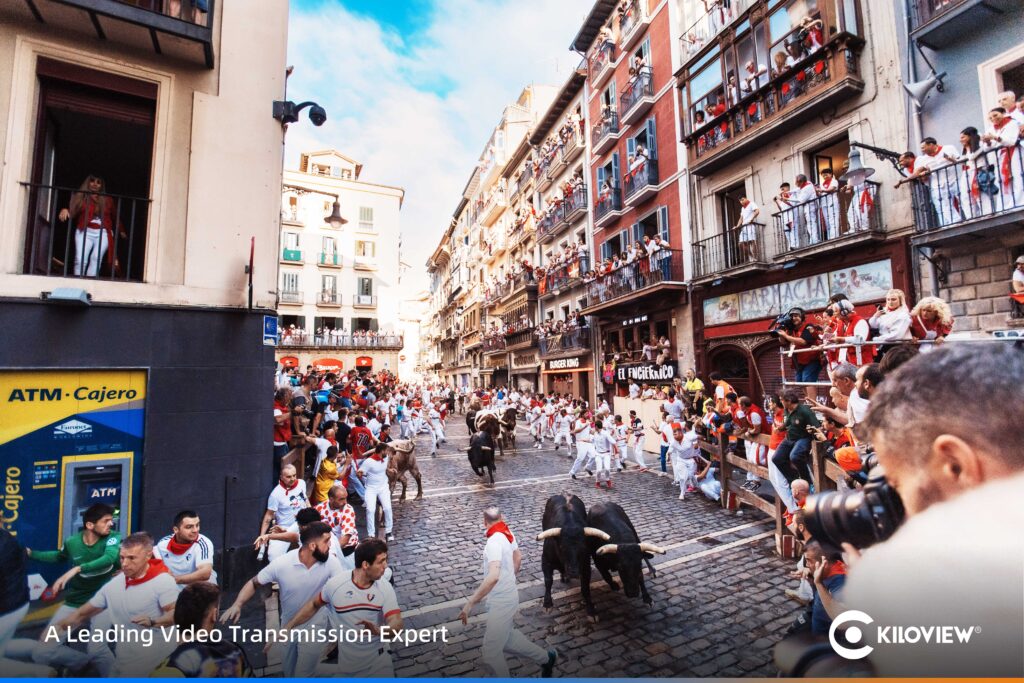 EncierroFilms is an independent producer of television specializing in the bull run in Pamplona, Spain, as well as webcasts and podcasts of any event of the annual Fiesta de San Fermín.
"In addition to TVE (Televisión Española, the public television network in Spain), we are the only company that does this work. Until now we simply recorded and edited the running of the bulls to market the summary video. This has been our first year streaming the event," said Ignacio San Martín, the technical manager of Encierro Films.
Through the partnership with Encierro Films, our partner Ontario Soluciones and 3D Storm provided Kiloview E1-S, P1, P2and D350 to achieve a low-latency, high-quality live video transmission of the Running of the bulls in the San Fermín Festival. Meanwhile, Kiloview Intercom Server (KIS) is also leveraged in the workflow, allowing photographers and directors to talk with each other through local area network and internet to achieve no limits of time and location.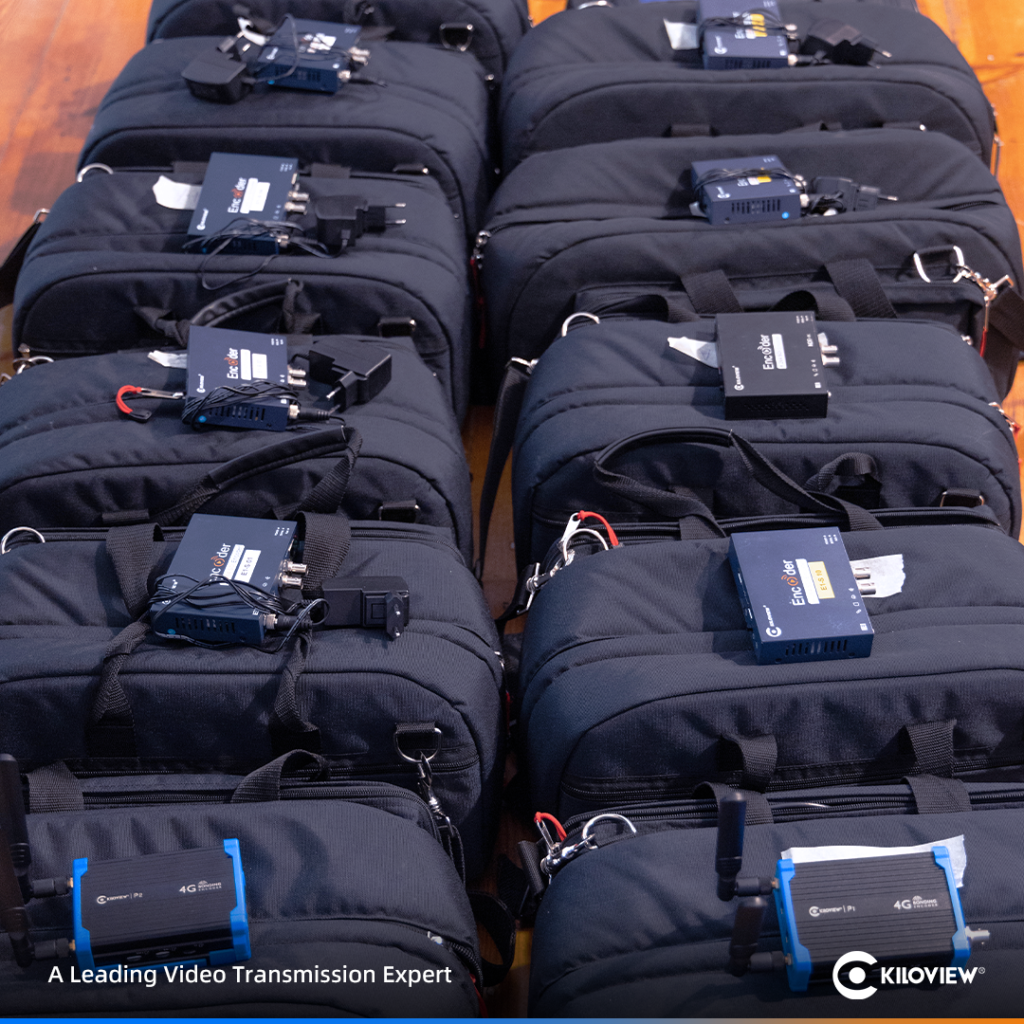 To ensure the effect of live streaming, it is necessary that encoders/decoders have low delay feature, which can ensure synchronization. And because of the distances between devices, the stability of the video transmission is also important.
Kiloview E1-S encoder converts SDI base-band video to H.264 IP streams, to achieve remote video transmission or live across internet WAN or over local network LAN. Whether streaming to the public streaming platform or syncing video data with another counterpart, the video latency is always perfect for your live streaming and end-to-end communication. The measured latency for SRT protocol encoding is less than 67ms, and the end-to-end connection is less than 1s. So, you will have "real-time" live streaming with E1-S.
Furthermore, Kiloview has launched E3, dual-channel 4K HDMI & 3G-SDI HEVC video encoder, which can fit more workflows with its HDMI&SDI I/O and upgraded encoding performance.
With the patented bonding algorithm with KiloLink, P1/P2 encoders can automatically balance the data of all connections and adjust the bitrate accordingly to ensure reliable streaming, plus the 5 connections bonding, so there is no problem with poor signal and transmission instability.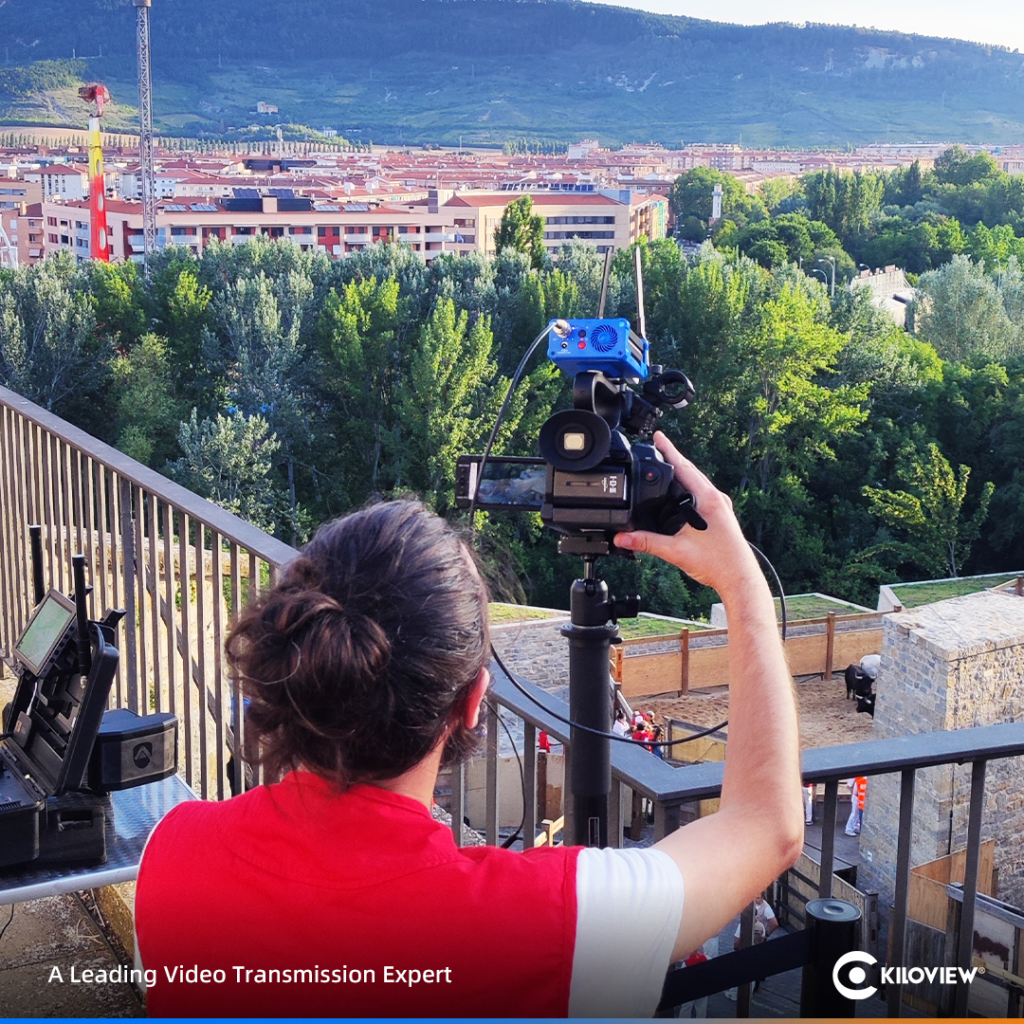 Having said the encoders, let's talk about the decoder. D350 is a professional hardware decoding device that can simultaneously decode up to 9 network video streams and then output them through both 3G-SDI and HDMI interfaces in synchronization, with up to 4Kp60 output resolution. Meanwhile, it features decoding delay of less than 200 ms and a packet loss rate of less than 10%. To sum up, D350 can guarantee outstanding image quality and low transmission latency for outputting video sources.
On top of that, all Kiloview devices support KIS (Kiloview Intercom Server). That means if you have encoders, decoders, or converters at hand, you can surely turn to KIS for multi-party communication solutions at your on-site or hybrid IP-based infrastructure. No heavy hardware to carry. Simply a KIS can solve the problem in a higher-level effectiveness.
"Kiloview has provided us with an excellent service with the necessary technical support for the configuration of all the equipment through its partners in Spain, Ontario Soluciones and 3D Storm. We are very satisfied with the final result of our streamings," said Ignacio San Martín, Technical manager of EncierroFilms.
"Kiloview continues to blaze a trail for low latency IP-based video transmission," said Judy, VP of Kiloview. "We are always committed to developing products across the range of video encoding, decoding, conversion, IP-based video switching and streamingfor our customers and we are proud to provide users with the appropriate hardware or software solution."