Hi there, I'm Ivy Lee. I'm the Marketing Director from KILOVIEW.
Today I'm going to share you the KILOVIEW Roadmap 2022. The KILOVIEW Roadmap is a diagram that demonstrates all current KILOVIEW products, the upcoming products, the AV-over-IP solutions, and the comprehensive logic sewing everything together to form a KILOVIEW ecosystem. This roadmap will help you to find out what kind of problems you can solve with KILOVIEW and how you can leverage the KILOVIEW products and solutions to win your business in the industry of broadcast, live events, education, house of worship etc to deliver better live production, remote production and live streaming.
Let's take a look!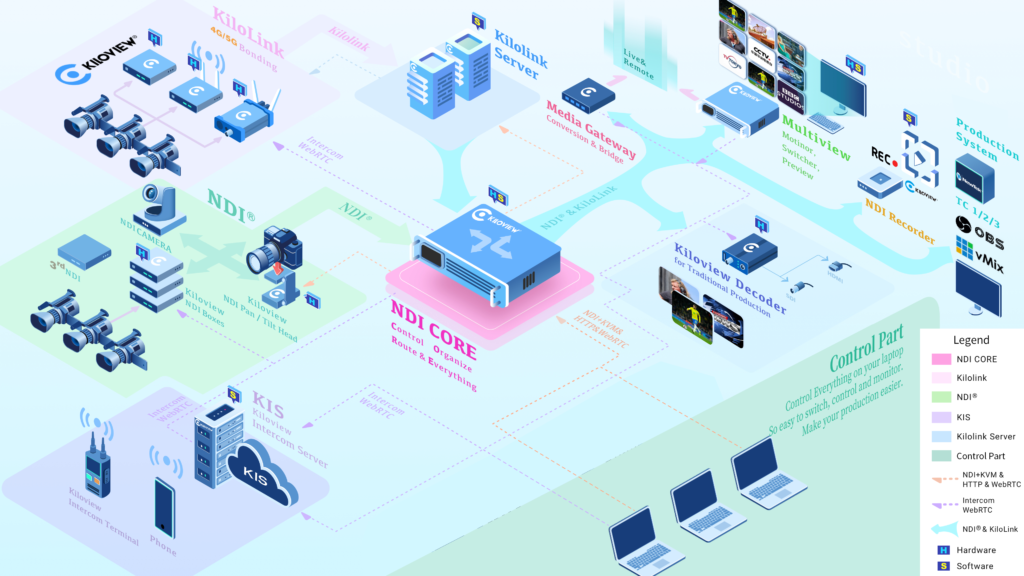 As you might have known, KILOVIEW is a provider of IP-based video transmission solutions. Currently KILOVIEW provides a series of the video encoders, decoders, NDI converters, Media Gateway and software systems like NDI CORE, NDI Multiview, NDI Recorder and so on, covering the whole workflow of IP video transmission.
Our ultimate goal is to be the one-stop shop for IP video solutions. As you can see from our new roadmap, we are going to bring all those products working together as an ecosystem where different parts are connected closely by KILOLINK and NDI technologies.
KILOVIEW provides a series of video encoders that can convert the baseband input from 3G-SDI, 12G-SDI, HD or 4K HDMI, to IP streams in different popular protocols through either 4G or 5G bonding network or the WIFI or Ethernet to be distributed and consumed across long distance.
All those encoders can directly send different types of IP video streams in protocols of RTSP, RTMP, SRT, HLS, TS-UDP, and so on. Meanwhile, all KILOVIEW products will be supporting KILOLINK Server- which is a powerful free server that you can utilize to manage all your videos. What's more important is that you can update the firmware of all KILOVIEW encoders, decoders, and other products remotely through the KILOLINK server later on.
To be more straightforward, the status of all devices can be monitored and configured, and upgraded based on the KILOLINK server. Also, based on the KILOLINK Server, you can manage all the video sources intaking by the encoders, conduct the port forwarding, and provide stream services in different live protocols such as SRT, RTSP, RTMP, UDP, and even NDI in our next version.
Let's look at the lower part of the KILOVIEW encoders, we can see here we have a series of NDI converters. NDI technologies are becoming more and more popular in the industry. KILOVIEW are providing some excellent converters that enable you to easily convert different types of baseband videos into NDI and NDI|HX. At the same time, we keep open and flexible to other NDI sources coming from other NDI cameras, NDI enabled software systems, PCs or any other systems can all be fed to our NDI CORE System.
Speaking of the NDI CORE system, it's a strong centralized management system that you'll definitely fall in love with when you need to deal with a whole bunch of NDI sources intakes. Lemme introduce the word of "CORE" for you first of all. It means "Control, Organize, Route and Everything". NDI CORE will organize and control all the video sources coming from anywhere in any format, either from the NDI converters or softwares or from KILOLINK server going through our P series encoders. Furthermore, the NDI core system will be able to duplicate any of the NDI sources and output unlimited NDI sources to unlimited destinations at your choice, which will achieve the target of NDI routing and managing without any limitation. As we might all know that the NDI systems are usually limited by the device bandwidth, which means one device can probably be connected by 3 or 4 NDI devices max. With NDI CORE, you don't have to worry about that. More importantly, the switching between sources is seamless without any lag or black screen on this server-based system. Plus, NDI CORE supports self-defined IO panels, automatic switch by setting the playlist.
All in all, with this system, we can get unlimited NDI input and output with different formats of NDI in different resolutions, and those outputs can be received by any of your desired destinations, including our NDI software systems such as the Multiview.
Let's look at the upright section, you can use the KILOVIEW NDI Multiview to monitor and control the PGM (Program) or PVW (Preview). You can set so many layouts of your NDI outputs on Multiview as you like. Further, in the new version, we can even support SRT and RTMP for streaming and overlay with simple production effects. And it will be server-based, you can monitor all your NDI sources anytime anywhere, on your PC, your iPad, or even on your mobile phone.
Also, the NDI sources coming from the NDI core can be recorded by our NDI recorder which is released recently for video archiving and backup. For this fabulous NDI recorder, we can support up to 20 channels of NDI sources recording separately with preview and different layouts, adding the NTP server for synchronization. All the saving files will be in .mov format.
At the same time, you can use the popular NDI production systems like NewTek Tricasters to work with the NDI sources as I've mentioned before that KILOVIEW keeps open to other systems and products.
If your input is already IP steam, then you can simply enter the NDI WORLD using a KILOVIEW Media Gateway, either hardware or software-based. We can convert any of the IP streams to NDI and then be centrally managed by NDI CORE as well. On the other hand, when output from NDI core needs to go directly for live streaming, our Media Gateway can help you to do that with a few clicks to convert it to RTSP, SRT, or any IP protocols for different purposes.
What if the output from NDI CORE system needs to be converted back to SDI or HDMI for display or traditional production systems? You should definitely choose KILOVIEW video decoders to convert videos back to SDI or HDMI. With our upcoming new decoders, we will support all the different protocols all in one.
KILOVIEW's philosophy is to provide a total solution with any in, any out and anywhere. To achieve the purpose of anywhere we know intercom is very important. So currently all KILOVIEW products support intercom function based on our KILOVIEW Intercom System (KIS) for unlimited devices connecting and communicating to each other. In the near future, we have the plan to release an Intercom terminal that supports intercom, video monitoring and return video monitoring. Even simply through an iPad or a mobile phone, you can all join the conversation.
As a series of the products like the KILOLINK server, the NDI CORE, the KILOVIEW Intercom Server and even the Multiview Server and NDI recorder can all be server-based, then we can provide a cloud-based solution with the technology of hyperfusion servers which will be even more reliable for the professional applications, and as they are all server based, we can manage all the devices anytime anywhere, not limited to any PC or device. In order to achieve that, we are developing the control part which can directly manage all the products easily based on KILOLINK.
In short summary, with all those functions working together, KILOVIEW will provide a total solution for IP-based video transmission, and further serve customers with studios in broadcast, education, enterprise, house of worship, sports, and government institutes, with cost-effective solutions to support you live streaming, remote production, live production and any time anywhere you need an IP-based Video.
Of course, eliminating all the management tools and the connecting parts, KILOVIEW encoders and decoders can connect directly to each other using SRT, RTMP, or other protocols like KILOLINK, You don't necessary to go through all these centralized management systems when your requirements are simple and direct.
Last but not least, our ultimate purpose is to put all those solutions in a very compact van, it's all IP-based so it will be a lightweight solution, very flexible, cost-effective and powerful in field. All the workflows for video capturing anytime anywhere, video transmission, management, monitoring, recording, production can all be included in this OB van. By putting everything in a van, KILOVIEW will help you to set up a mobile studio to live stream at anytime anywhere, with any format in, any protocol out.
OK, then that's all about our new roadmap. We're excited about it and we hope you feel the same. Then let's wait for our new products unveiled in the coming months. Stay tuned!
See you!
Writer: Judy Zuo
Editor: Ivy Lee
Presenter: Ivy Lee
Videographer: Juno Xia
Video Editor: Juno Xia
Coordinator: Carole Chan