In the March of 2021, lots of media reported the "New discoveries at Sanxingdui Ruins shed light on Chinese civilization" and the newly found gold masks, bronze masks and human figures are all reflections of the distinctiveness and creativity of the ancient Shu civilization, according to archaeologists.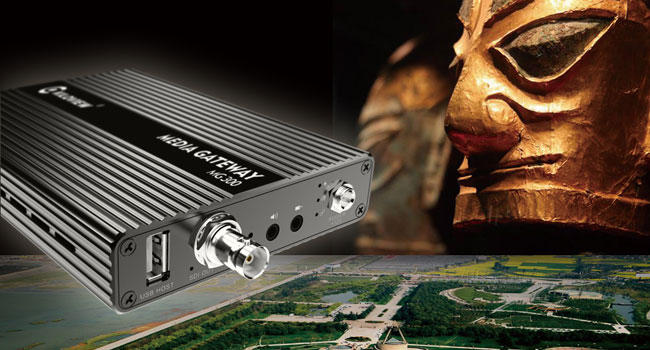 Luckily in this event, Kiloview MG300+Cradle Series Decoder contributed to CCTV's live streaming of the new archaeological discoveries in Sanxingdui.
Background: There are a total of 6 archaeological pits in the Sanxingdui archaeological site, which are located in 4 enclosed shelters. In order to preserve precious image data, each shelter is equipped with 9 surveillance cameras and a total of 36 video surveillance signals for full-time recording.
Challenge: Due to the particularity of archaeological work, in order to protect precious cultural relics from damage and archaeological work being interrupted, in addition to professional archaeologists and equipment, access to other personnel and shooting equipment is strictly restricted in the enclosed shelter, which results in the number of cameras and shooting angle is limited. Besides almost all types of surveillance cameras are compatible with RTSP/Onvif protocol and the OB van needs to receive an SDI signal for production.
Solution: According to the on-site situation, CCTV decides to select Kiloview MG300 media gateway and cradle series decoder.
In the below application diagram, after the front-end HDMI camera signal is forwarded to the video gateway (MG300) via the server, the gateway assumes the task of video distribution so that all video signals can be received by the back-end decoder. The distributed signal is decoded by a multi-channel decoder (1U) into 3 channels of baseband signals (1920×1080, 50i, SDI), which can then be connected to the OB truck switcher to realize complete live broadcast transmission.

According to Hu Zhongxue and Du Shuhua, technical director of CCTV AV team and writers of the article "Application of video surveillance system in the production of live archaeology in Sanxingdui":
"Kiloview's solution is great since it made full use of local video surveillance resources, enriched the options for program content production, greatly saved on-site wiring work, streamlined technical operators, reduce the overall production cost and better user's viewing experience, for this, I want to express my gratitude to Kiloview!".