We recommend 3 options for outdoor IRL streaming with reasonable and affordable prices for beginners:
1. Your smartphone (iPhone/Android) + Microphone + dual quick release plate/hot shoe extension bar + Tripod
When you first start with outdoor live streaming, no hurry to buy any fancy cameras or equipment. Your iPhone or Android phone can be your lowest budge choice of camera and software encoder for the good-enough outdoor IRL streaming.
Using your smartphone, you can easily start a live on the following popular platforms:
(1) Twitch
(2) Periscope
(3) Facebook Live
(4) YouTube Live
(5) Instagram Live
Simply click the bottom on your phone, and live you go.
For outdoor IRL streaming, your phone is not enough. As sounds bring immersive experience and emotions, the audience in 2022 might be good with 1080p video quality but have no tolerance for a ruined and unfocused sound. While your cell phone provides the video input, you still need an external audio input for clean & clear sound intake.
A small directional lavalier microphone, a 3.5mm corded shotgun with an adapter, or a wireless microphone kit with a receiver are all good choices for crystal clear voice intake with under 100 bucks budget on Amazon.
Last but not least, try to not use your hands holding your smartphone for live to avoid shakes and jitters. So don't forget to put a double quick-release plate into your shopping cart to mount both smartphone and shotgun mic above a tripod. The more stable the phone sits, the more professional the live perceived.
Pros
Cons
1. Low budget, no need to buy a DSLR camera
2. Easy to live, just click the button
1. The live quality depends on the phone cam's resolutions, might not be clear enough
2. The signal could be bad in a certain area
3. Might shorten the smartphone lifespan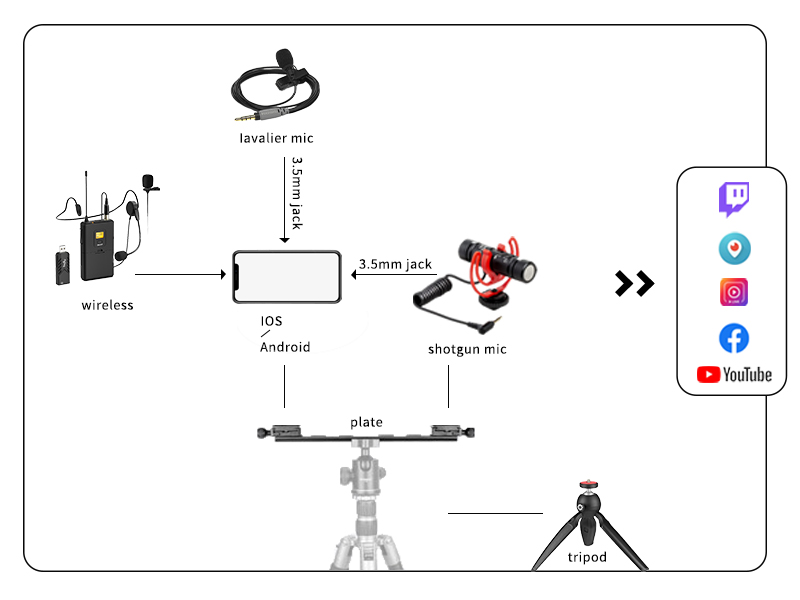 2. DSLR Camera + Your phone (iPhone/Android) + capture card + Microphone + Camera Stabilizer
Under the circumstances when you need a higher quality video, the DSLR camera jumps to the top of the list to provide faster autofocus, higher resolution, and more stunning image richness.
Sony, Canon, and Fujifilm are good brand options for you to select a reliable DSLR camera at reasonable prices.
Your smartphone, in this case, will be the monitor + encoder (app) instead of the camera.
Download an app, CameraFi, on your Android phone and then connect to an HDMI capture card and the camera. Everything is set up to go.
Easily mount your phone at the cold shoe of your DSLR while it's working as a monitor, 4G signal provider, and an encoder.
Since the whole pack might weigh greatly, a camera stabilizer is a MUST-HAVE to balance the frames while you move. IRL streaming means you might live in a car. A DJI 3-axis handheld camera stabilizer can fit both your camera and phone and for both handhelds and stands on the ground to satisfy various video shooting needs out there.
Pros
Cons
1. Higher resolution with DSLR camera
2. Easy connection between equipment
3. Your phone acts as a monitor & encoder, no need to purchase
1. Some live streaming APPs cost subscription fees up to 70-80 bucks/month
2. Live streaming to only 1 platform at a time.
3. Might have lagging or black screen due to the bandwidth limitation
4. You need the 2nd phone to check live streaming feedback
5. Can't connect to the action camera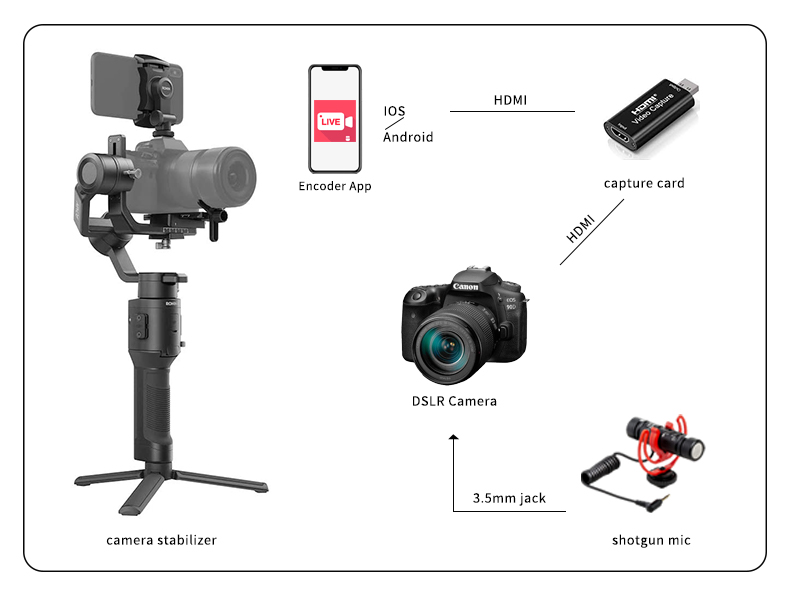 3. Action/DSLR Camera + 4G bonding Encoder + Microphone + Monopod
Then what if the place you go has awful signal connectivity? For example, when you conduct a hiking IRL streaming, a camping streaming in a wild environment, or a fishing live streaming in the middle of the ocean, one 4G signal provided by a smartphone is not enough.
A 4G bonding encoder hardware is a trustworthy option that you should first turn to. Bonding means the encoder can "bond" several signals from sim cards to provide more reliable, sustainable, and stronger signals even in the middle of nowhere to guarantee your live streaming looks professional with no lag and no black screen.
Connect your action camera such as the SONY FDR-X3000 or your DSLR camera to a KILOVIEW P series and external add a shotgun mic and a camera stabilizer, you can easily set an outdoor live streaming workflow that is comparable with the broadcasting-level video quality.
KILOVIEW P series is a 5-signal 4G bonding lightweight encoder that is a small factor. Easy to carry, yet powerful to signal.
KILOVIEW P allows you to insert 2 sim cards, 2 external USB sim dongle modems, plus 1 Wifi that you can use your phone as a hotspot. Not like the traditional bonding encoder that has to connect a corded external sim modem, with the P series, you can further reduce the cables you carry in the bag and keep everything neat and clean.
Using KILOVIEW P, you can use KILOVIEW's Kilolink software for totally FREE. Simply deploy on a popular could server such as AWS, the on-demand cloud computing platform provided by Amazon. It sounds insane as a business decision. But the FREE software dramatically lowers the costs of setting up a broadcasting-level outdoor live streaming workflow.
Furthermore, the P series is a hardware encoder that is more reliable in the wild. Powered by the inserted battery, the P series supports 3-5 continuous live streaming WITHOUT connecting to a power bank.
More surprisingly, P weights only 400g with the inserted battery. It feels like nothing in your backpack.
While you move outside, you can choose an action camera over a DSLR to reduce the packing burden. Not to mention that the action camera provides a more stable and balanced frame than most DSLR cameras.
It's an alternative to adding a smartphone in a bar mount phone holder to check live streaming feedback and instantly communicate with your audience.
Since the P encoder, power charger, and all the cables are all stuck into the backpack, you only need to have a light action camera with a stick, and a phone with a bar mount phone holder at hand. The whole set at hand will be no more than 1000g, which incredibly relaxes your arms during IRL streaming.
Pros
Cons
1. Higher resolution with a DSLR camera
2. Lighter option with an action camera
3. Bonding signals provide connectivity anywhere in the wild
4. Live streaming can go to multiple platforms at the same time
5. Encoder with battery, no need to charge at the first few hours
6. Overlap your logo at the corner of the video
7. Local TF storage supported
8. Use your phone for feedback check
9. Everything goes into your bag not on your arms
1. Needs a little bit techy pre-configuration.
2. Suits semi- or professional practitioners.
3. Heavier than the first 2 choices but most of the things go into backpack
4. More expensive to setup than the previous alternatives but more professional