The Best Affordable AV-over-IP Workflow
Writer: Ivy Lee
Editor: Judy Zuo
New to the IP-based video transmission world, users often get confused around where to get started and what products or solutions to go for. For the pioneer users in live streaming area, under the profound impacts of quarantine and lockdown, budget-controlling came up to the top of the list, and they're asking not only a IP-based solution, but an affordable best workflow.
To answer these questions and solve the problems for various audience groups, KILOVIEW, a leading company providing IP-based video transmission solutions, released the KILOVIEW Roadmap 2022 today.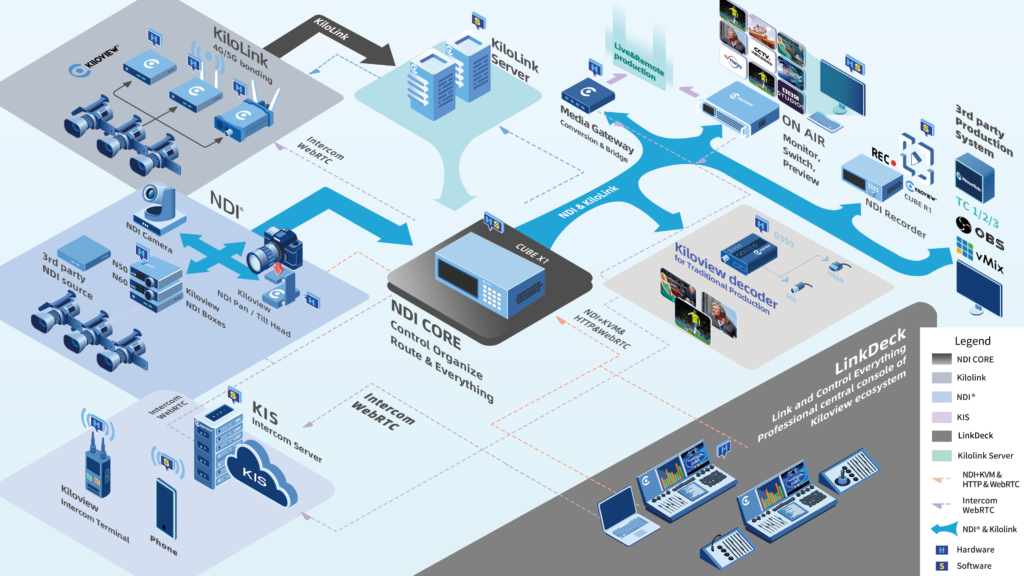 The KILOVIEW Roadmap is a diagram that demonstrates all current KILOVIEW products, forthcoming products, AV-over-IP solutions, and the comprehensive logic sewing everything together to form a KILOVIEW ecosystem.
"You can easily find the familiar H.264/HEVC encoders/decoders, Media Gateway, NDI converters, and NDI Multiview on the Roadmap." said Judy Zuo, the Vice President and Head of Marketing and Sales of KILOVIEW, "and also the recently coming up products such as NDI CORE and NDI Recorder, as well as our highly anticipated products and services such as KILOLINK Server and control panels."
"The Roadmap is designed for every stakeholders to better understand the values we're delivering," said Jacob Zuo, the founder and the CEO of KILOVIEW, "No matter you own a startup audiovisual studio or you're a total veteran in this industry for years, the Roadmap is useful for you to either kick off your live streaming business, enhance the AV-over-IP experiences, cut unnecessary expenses, or minimize but optimize your IP infrastructure."
The illustration video of the Roadmap 2022 will be released in the coming days. Here are several sneak peek of the Roadmap that can give you the basic idea of what is it.
1. How to easily enter the world of IP?
Youtube Live Streaming accepts RTMP, RTMPS, HLS & DASH protocols; Facebook uses RTMPS; twitch receives RTMP as well.
Live streaming starts with encoding. Signals from all your high-quality SDI cameras and HDMI cameras should be encoded into H.264/H.265 protocols like RTMP, RTMPS, HLS or else to go live on the aforementioned popular platforms.
As shown in the up-left section of the KILOVIEW Roadmap, the IP-based live streaming workflow starts from here with all different types of encoders. KILOVIEW IP encoders set you free from the complex cables and deliver the IP video signals to all the hot live platforms without degradation, using all different types of networks available, anytime anywhere.
2. How to manage so many remote videos/audios in a single system?
In a video-over-IP on-site infrastructure, different types of cameras are set up to take audiovisual signals and then transferred via WAN or LAN to different destinations for various purposes. As the number of signals increasing, things could be very complicated without a management center.
NDI CORE is the ultimate tool to manage all of your IP videos. As you can see from the Roadmap, KILOVIEW's NDI CORE sits right in the middle of the map, as well as the middle between your video signals and your desired destinations. NDI CORE helps you to Control, Organize, Route, and do Everything needed on videos signals. It's effortless to switch among videos, monitor frames, and distribute to unlimited desired destinations via the NDI CORE.
At your option, the NDI signals outgested from NDI CORE can be leveraged by your 3rd party production system (OBS, Tricaster, vMix, etc.), by a multi-screen monitoring software (KILOVIEW Multiview), or by a decoder (KILOVIEW D300) to return to an SDI/HDMI signal.
For the church, school, and institutes, NDI CORE just makes your one-to-one or one-to-multiple online high quality video communication as simple as ABC. Which camera signal should go which screen/output? You name it!
Meanwhile, switching signals between your screen and your camera is smooth and seamless with our NDI CORE.
3. Is there any easy and effective way to communicate with other cameramen?
As shown in the Roadmap, KILOVIEW Intercom Server (KIS) connects every KILOVIEW product to ensure prompt communications among the KILOVIEW users.
All KILOVIEW encoders, decoders and other products accept a USB headphone input by which you can talk to the operators nearby other KILOVIEW products in remote locations/regions/countries. While walkie-talkie or hand gestures are only limited to short distance usage, the cloud-based KIS provides you a fast, instant, stable intercom experience to have all your team connected across distance.
KIS is cloud-based and you can easily access through a laptop/PC as well as your Kiloview devices on hand.
4. How can I ensure my video data/signals are highly secure & private?
In the upper left section, sits the fabulous KILOLINK server. KILOLINK is our patented algorithm that provides speedy, secure & remote 4G bonding networks and centralized management services. In other words, this amazing cloud-based KILOLINK server can help you to manage and configure all your distant KILOVIEW encoder/decoder boxes in an encryption-shielded environment to provide you with a highly effective workflow, a safer data transmission, and a better user experience.
The video data in the KILOLINK server can then flow into our NDI CORE to be leveraged in NDI surroundings.
At the current stage, only KILOVIEW P series support KILOLINK server. Other boxes will follow up soon this year.
5.How can I convert my camera signals to NDI and then to the right protocols to go live? – NDI Converters & Media Gateway
The middle-left section is the NDI converter sections. KILOVIEW owns a series powerful NDI converters from 3G SDI, 12G SDI to HD and 4K HDMI. "Since more and more clients are turning to NDI for a high quality, low latency and cable free video studio, our NDI converters are getting more demanded by the market." said Judy. Eliminating the cables and cards, camera signals directly converted to NDI can be leveraged with higher efficiency in the NDI studio.
When the bulk of NDI video flows output from the NDI CORE, people usually need the flow to be compressed and converted into multiple popular IP protocols (SRT/RTMP/RTMPS/RTSP/RTP) to go live on platforms such as Youtube, LinkedIn, Facebook, and twitch, or transmit it to remote studios. In the upper-middle section of the Roadmap, we present our adaptable KILOVIEW media gateway (MG300 is the hottest product) that can easily convert NDI into other H.264 protocols, and vice versa. You might find your studio uses MG300 very frequently to bridge between NDI and your desired destinations, both the hardware version and the software one. Similarly, you might use a media gateway to receive and convert other H.264 protocols into an NDI intake for your studio to preview or produce.
6. Is there any FREE monitoring software that I can utilize to oversee so many video resources?
Our FREE KILOVIEW NDI Multiview is one of the most popular products to intake and preview all of your NDI video sources from various NDI products, such as NDI PTZ cameras, NDI cameras, NDI encoders, and beyond.
The present free version of KILOVIEW NDI Multiview is a laptop/PC-based software and further we will have the server-based version, which means you can easily access all of your NDI videos anywhere in the world with simple & easy few clicks on your laptop.
7. May I record all the videos while monitoring them?
Based on your laptop/PC/Mac, our recently released powerful KILOVIEW NDI recorder is the software that allows you to record max of 20 videos simultaneously, any format, any resolution. You can record as you live; record as you preview; or record any produced NDI video output from OBS, Tricaster, or vMix.
For your TV show recording, the KILOVIEW NDI Recorder guarantees the recording stability and security as an independent system. No worry on laptop dead and data lost.
For video surveillance usage, the KILOVIEW NDI Recorder can consistently record all video signals for archiving and store on local.
8. For the IP videos, can I use them for further traditional production?
Yes, of course you can do that.
NDI High Bandwidth/ NDI|HX signals from KILOVIEW NDI CORE or any of your other NDI sources can be easily converted into SDI signal for traditional production, or into HDMI for presenting by KILOVIEW's decoders. 
For NDI High Bandwidth signals, we have NDI codecs (N30/N40/N3/N4) generating SDI (N30/N3) and HDMI (N40/N4). For NDI|HX signals, we present you the hot product D300 decoder to conduct simple NDI|HX-to-SDI or NDI|HX-to-HDMI conversion. 
9. Can I use just one software to control everything above?
We're proudly to say that we do have the plan to release the KILOVIEW control part this year. You can then easily access all of the aforementioned products & devices on your laptop to control, switch, route or monitor. More surprises are on the way to the world of NDI and the world of KILOVIEW!