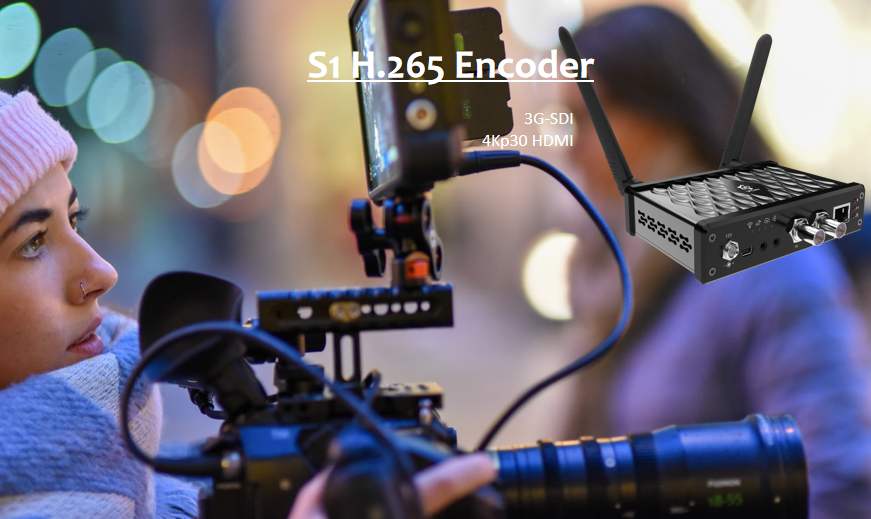 Kiloview S1 H.265 encoder supports 3G-SDI/4Kp30 HDMI dual interface (One available for encoding at a time). It saves bandwidth by more than 40% compared with H.264 encoding under the same conditions featuring lower encoding rate, and supports wireless and wired network transmission. H.265 encoder, with repeated quality comparison tests, has been shown to have 39-44% smaller size of video streaming encoding under the same image quality compared with H.264.
In the 5G era, ultra-high-definition video means higher bit rate, resolution, color depth, dynamic range, etc., as well as higher bandwidth and storage costs of course. In this regard, on pursuing a higher definition and smoother playback experience, how to minimize bandwidth has become the core demand of major video companies.
H.265 uses advanced technology to improve the encoding quality to achieve the most optimized video effect. H.265 is designed to transmit higher-quality network videos under a limited band. Compared with H.264, it can support to watch higher-quality videos under the same bandwidth.
4Kp30 video encoder Advantages:
*Support up to 4KP30 video input and supports H.265 (HEVC) / H.264 high-performance encoding;
*Support wired/ wireless network transmission, support SRT/RTMP/ RTMPS/HLS/UDP/RTSP/Onvif/ and more protocols;
* Support dual stream output, the main and sub stream can be independently set with different parameters, and can be streamed to 16 live platforms simultaneously.
* User-friendly for video guy – tally light, PoE power supply, PTZ control, and graphic overlay;
Application Scenarios:
4K video program production,
4K ultra-high-definition video live broadcast,
4K+5G application solutions,
4K video Internet point-to-point transmission,
4K large-screen display projects,
4K video network recording and storage,
4K wireless transmission Scene