This week, KILOVIEW, a leading IP-based video transmission devices provider, officially released their Roadmap 2022. KILOVIEW Roadmap is a diagram that demonstrates all current KILOVIEW products, forthcoming products, AV-over-IP solutions, and the comprehensive logic behind sewing everything together to form a KILOVIEW ecosystem. The Roadmap shows KILOVIEW's ambition and confidence to expand the market with its considerable amount of new products on demand.
In the delineating video presented by Ivy Lee, the Marketing Director of KILOVIEW, KILOVIEW Roadmap was divided into several parts, KILOVIEW encoder boxes, NDI sources, NDI CORE, KILOLINK Server, NDI STUDIO, KILOVIEW decoder boxes, KILOVIEW Intercom Server (KIS) and the KILOVIEW control panels (Figure 1).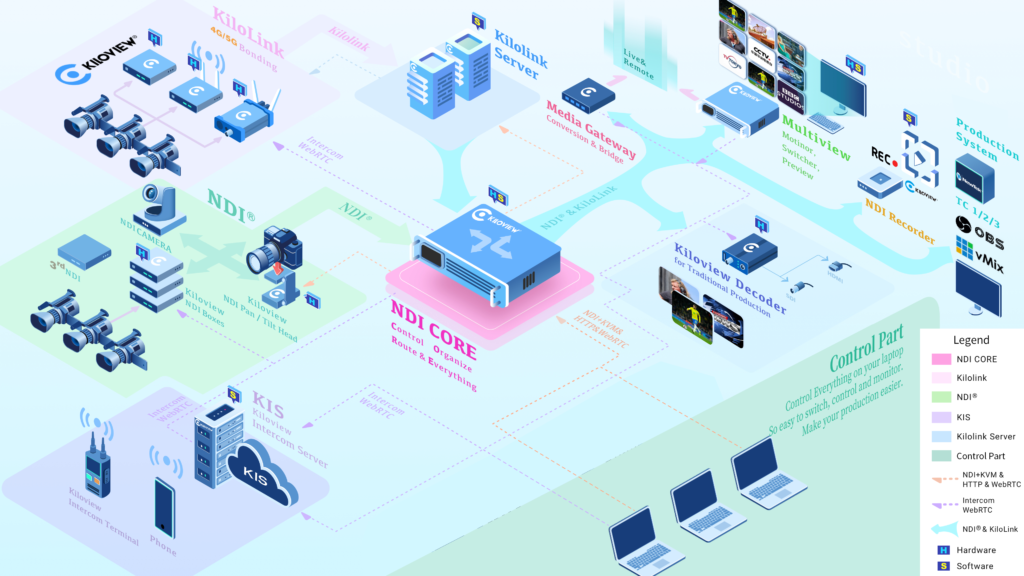 Through a single map, KILOVIEW distributors, resellers and end-users are all be able to see what's coming up in 2022 and KILOVIEW's ambition and determination in delivering useful products and solutions to better serve the clients. This is also the first time that the audience can crystally recognize that there's an all-inclusive comprehensive portfolio backing those popular encoder/decoder boxes. "KILOVIEW is committed to creating not only great devices, but that has a vision for an entire ecosystem totally built around KILOVIEW's Technology," said Stefano Sarzi Madidini, Technical Manager of ADCOM.
For users who are new to KILOVIEW, Roadmap will be a good tool to understand what values users can leverage from KILOVIEW to kick off and win their own business. Several partners rate 8-10 out of 10 to present the degree that the Roadmap helped them to understand the values KILOVIEW is conveying to the market after they listened to the Roadmap illustration and elaboration. "You are hard at work developing new solutions and looking to be a total solutions provider rather than just a component of another solution by other vendor." reflected by Nick Smith, VP of Technology of exertis.
"We see a very ambitious roadmap which convinces us of KILOVIEW as a great partner that wants to lead this area of the video market," said Javier Sensat, general director of Video Digital. The Roadmap proves KILOVIEW to its partners that the company is working hard to keep marching forward and providing cutting-edge products for customers, which is very important in the Pro AV industry. As Tim Daumann, the Head of Audio/Video of Comline said, "This is key, especially in the business area we are in."
Regarding particular products that are expected the most from the Roadmap, the words "12G-SDI", "H.265", "KILOLINK Server", "P series" came up very often. It's noteworthy that the upcoming KILOLINK Server will be free, which means it costs no money, is not subscription-based, and is totally free. This policy was commented "insanely good" by one of the partners.
KILOVIEW has been keeping its eyes open, listening to the market, and planning the most urgent needs in the Roadmap 2022. "KILOVIEW has the vision to establish itself as a one-stop-shop for the very demanding and increasing growing market of streaming and video over IP professional solutions, by developing high quality and cost-effective products and solutions," said Javier.
"However products have to be reliable and enough proven once they are released to the market. So this Roadmap is a motivating challenge." Javier kept saying. Facing directly the challenges, KILOVIEW convinces its distributors and resellers with a series of actions. With all these plans of providing highly demanded products such as H.265 & 4K codes, pan tilt robot head, and could-based server, KILOVIEW expanded the size of R&D team by 63% in the past 6 months. The processes of product testing and quality control system are moving into top gear as well, said Judy.
Author: Ivy Lee
Editor: Judy Zuo